PREMIUM MULTI SAE 15W 40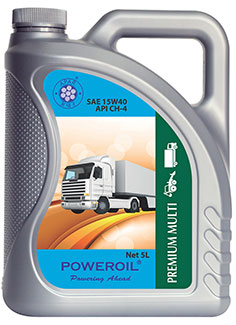 PREMIUM MULTI SAE 15W 40 is a high performance Heavy Duty Diesel Engine oil for all turbo charged diesel
engines of HCV,LCV,DG SETS or Off Road equipment's. It has very high oxidation and thermal stability and
stays in the right viscosity grade to provide optimum lubrication to important engine parts. It keeps the
engine clean from any deposits and protects it from corrosion. Its flows very fast to turbo charger at
times of cranking to avoid dry running of turbo charger bearing and protects it from wear.
Advantages
– Keeps the engine clean and prolongs the engine's life.
– Protects the turbo charger from wear during starting of the engine when there is
no lubricant present in the turbocharger.
– Its high fluidity makes the oil reach fast to turbo charger to protect it at high RPM.
Available Grades:- PREMIUM MULTI 15W 40 API CH4.
PREMIUM 15W 40 API CF4.
Available in 1L, 4L, 5L, 20L, 200L, 209L
Published On: December 28, 2020