POWEROIL PREMIUM HD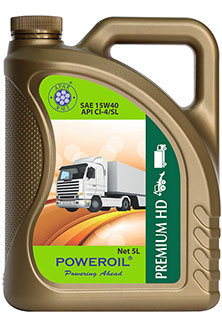 POWEROIL PREMIUM HD grades of heavy duty diesel engine oils made from top of the line high grades hydrocracked base oils with latest additive technologies to give best protection to engine parts and provide higher drain interval for reduced downtime and servicing cost.
It can be used in all modern diesel engines with latest international emission standard up to EURO VI and engines fitted with after treatment devices requiring normal or medium SAP diesel engine oils. It can be used in HCV, LCV, MUV, SUV, DG SET, Off- Road & Construction Equipment.
Advantages
– Better protection against high temperature deposits due to its better detergency properties.
– Better protection against sludge due to its high dispersancy properties.
– Better protection of Turbo charger due to its high fluidity under cold temperature.
– Better mileage and all round protection as we use best friction modifier.
– Better protection from corrosion and rusting.
– Low evaporation loss during use ensures less oil consumption.
Available Grades:- PREMIUM HD SUPER 15W40 API CK4, PREMIUM HD 15W40 API CI4
Available in 1L, 4L, 5L 20L, 200L, 209L.
Published On: December 28, 2020