POWEROIL DOT 4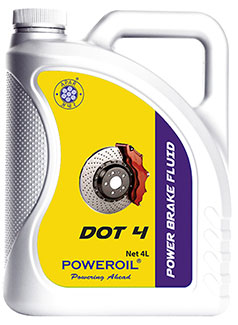 POWEROIL DOT 4 is Brake and Clutch Fluid formulated for use under severe operating conditions where
DOT 4 fluids are recommended. Brake and Clutch Fluid DOT 4 combines a complex combination of Poly
glycols, Poly glycol Ethers blended with inhibitors designed to prevent corrosion, oxidation and to
control seal swell characteristics. It has as a high boiling point and hence does not give rise to
vapour lock problems in high temperature operating conditions and also does not deteriorate due to
sudden and repetitive braking.
APPLICATION
POWEROILDOT 4 is designed for use in modern brake system of automotive vehicles operating in heavy duty conditions. This is recommended for various hydraulic brake systems including disc type.
Advantages
– Provides very high safety factor during driving at high speed in city and under heavy load in hilly region.
– Provides excellent protection against corrosion to iron, non-ferrous metals and zinc alloys.
– High thermal stability.
– Excellent chemical stability
– Has long service life due to excellent oxidation stability.
Available grades: POWEROIL DOT 4
POWEROIL DOT 3
Available in 1L. 4L. 20L. 200L. 209L
Published On: December 28, 2020