POWEROIL CRUISE SONIC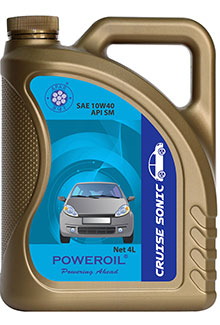 This range of synthetic engine oils are specially made for modern, luxury cars, multi utility vehicles
and sports utility vehicles. The oils boost engine power and provide better mileage.
The synthetic technology used provides higher oxidation stability, which results in longer drain intervals.
The oils also offer solid protection to engine parts when engines are started, as this is where maximum wear
and tear takes place. Therefore, engine life is prolonged.
Available Grades: CRUISE SONIC 5W 40, CRUISE SONIC 10W 40
Performance claims: API SN/CF, ACEA A3/B4, MB 229.3/ MB 229.5, Porche A 40.
Available in: 1L, 4L, 5L, 20L, 200L, 209L
Published On: December 28, 2020