POWER GEM MP3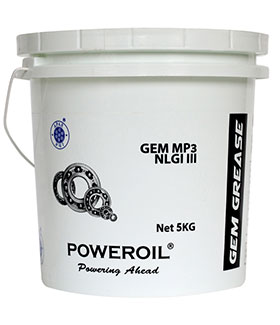 POWER GEM MP3 is a premium quality lithium soap based multi-purpose grease with excellent oxidation stability,
high temperature and water resistant properties.
Recommended for use in Wheel Bearing and Hubs, Universal Joints, Water Pumps Bearings, Steering and Chassis
parts of all automotive vehicles and many industrial applications.
Advantages
– It has got high drop point which makes versatile in many operating temperature.
– Its good water resistant properties make it useful for wheel bearings and water pump bearings.
– It protects the bearing and shaft from corrosion and rust.
– Excellent shear stability.
– It keeps the parts as good as new.
Available Grades: POWER GEM MP3 (LITHIUM)
POWER GEM MP2 (LITHIUM)
POWER GEM EP3 (LITHIUM)
POWER GEM EP (LITHIUM COMPLEX)
POWER GEM CALCI 3 (CALCIUM GREASE)
Available in 500gm, 1KG, 2KG, 3KG, 5KG, 15KG, 18KG, 180KG.
Published On: December 28, 2020