AdBlue® (Power SCR Fluid)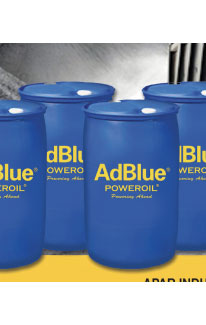 NOx reducing agent for Heavy Duty Vehicles
Power SCR Fluid is blended from highly purified Urea and ultra-pure demineralised water
under extremely clean and controlled conditions. We use VDA approved urea under brand name of AdBlue.
APPLICATION:
Diesel exhaust fluid for SCR automotive catalyst operation fitted in heavy duty Euro IV & Euro V
vehicles on and off road; also suitable for gensets.
Power SCR Fluid works with all SCR systems to significantly reduce NOx content in diesel engines.
The analytical methods are defined in ISO 22241 (version of 2008/9).
Available in 20L, 200L, 209L.
Published On: December 28, 2020