Wind mill cables up to 33 kV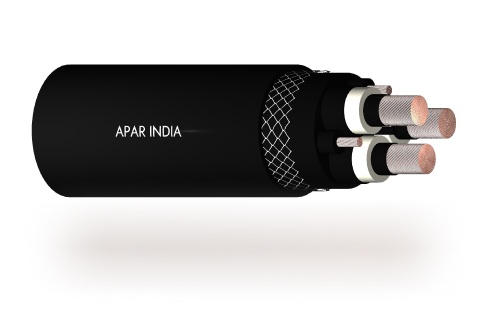 APAR manufactures a broad range of cables ranging from cables for renewable energy products to those for terrestrial and offshore wind markets.
We manufacture cables for applications ranging from the nacelle and tower of the wind turbine where electricity is created to the step-up transformer where the electricity is transferred and to the collection system as well.
The range includes cables for the entire spectrum: from the substation to the power grid.
Aluminium cables and wires are gaining popularity for their reduced weight (70 percent lighter than copper and nearly three times cheaper than copper conductors). They are also preferred for their ability to perform comparably to their copper counterparts with a minimum increase of the cable's or wire's diameter.
We have expanded our aluminium cable offerings for the wind sector with additional single and multi-conductor power cables.
Application

Wind cables in the wind turbine's nacelle place extreme torsional stress on power cables. APAR cables are rigorously tested and can meet this challenge.

We also manfuacture power cables for vertical lifts/elevators in wind turbines as aids in climbing up tower walls and accessing the nacelle.

Characteristics

1. Temperature range (fixed & flexing): 40°C to +90°C .

2. Flame-retardant, low smoke, halogen-free oil, UV, abrasion and impact-resistant.

Applicable standards
DIN VDE 0250-813, IEC 60502 in general as well as customer standard
(Suzlon, Gamesa, Vestas, Senvion, GE Power)
Product range
0.34 to 630 sq mm
Advantages

Stable electrical properties over a broad temperature range (-40°C to 90°C)

– Superior UV/sunlight, oil and ozone resistance for use in a wind turbine generator and tower

– Excellent flexibility and resistance to high-torsion stress, even in sub-zero conditions

– Flame-retardant for maximum safety

-20-year service life

– Complete range of low-voltage signal, control and power cables and medium-voltage cables up to 35 kV
Published On: January 20, 2021