Unitube fibre optic cables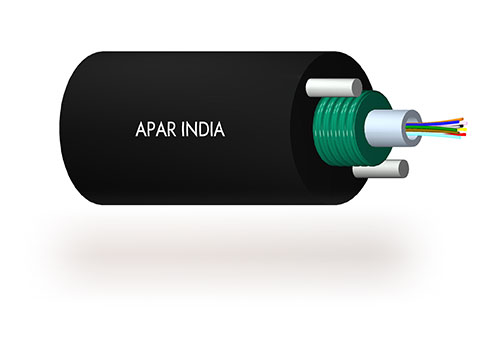 APAR's optical fibre cables have several optical fibres bundled together, which are then individually and protectively covered to reduce losses and damage.
Fibre optic cables use light pulses to transfer data signals up to hundreds of miles and they have a higher bandwidth and throughput than conventional electrical communication cables.
In today's advanced environment, fibre optic cables are the main source of communication between organisations with multiple sites, telecom companies, and many other such long distance communication applications that require higher bandwidth and longer distance transmission.
The type of optical fibre to be used is dependent on the application, the distance which the signals are required to travel, and the speed of transmission. The installation and environmental requirements also decide the cable construction. This includes (but is not limited to) indoor applications within a dry wall in a public area, which may or may not have special LSZH materials, and installations along railway tracks.
APAR's customised cable solutions cater to the high-bandwidth applications of data centres, global internet companies, ISPs and telcos, and citizen network services. We offer a wide range of cables, including aerial, underground, micro duct, ribbon, IO, indoor connectivity, last-mile connectivity and special application cables.
| | |
| --- | --- |
| Application | Applications range from carrying telephone calls (up to several million calls per cable) to high-speed data transfer for vast computer networks. |
| Characteristics | For critical applications, our range of cables are available in fire-resistant (IEC 60331) versions, and can also be made for customer-specific requirements. |
| Applicable standards | IEC 60793, IEC 60794, Telcordia GR -20, TIA/EIA 598 |
| Product range | Under Unitube Optical Cables, APAR offers the following types of cables: duct and direct-buried underground cable, aerial, ADSS and Figure 8 cables for overhead applications, and cables for indoor use in micro ducts/conduits from 2 fibres to 24 fibres. We also offer customer-specific composite and hybrid cables with single mode and multi mode fibres. |
| Advantages | Fibre optic cables support and run a huge part of the global internet services in a more efficient and effective manner than standard copper cables. Fibre optic cables, with the similar thickness of standard copper cables, support a higher bandwidth, and transmit data over longer distances, allowing telecom network providers to reach remote locations across the globe. |
Published On: January 20, 2021