Uninyvin cables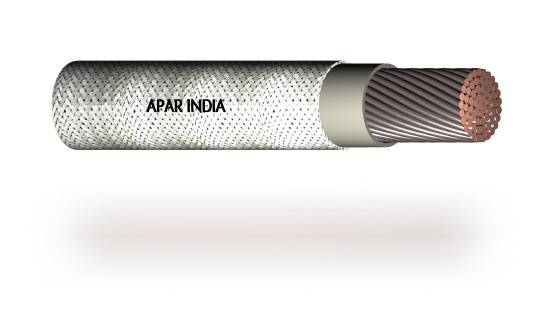 APAR Uninynin cables comprise three unique additional insulation layers.
The copper copper conductor is first tin-platted to prevent oxidisation and make it solderable. Then an insulation of the HR-PVC insulation coat is used, after which, to increase the cable's fire resistance and mechanical strength, a cover of fibreglass yarn braiding is provided. This is then covered with a secondary nylon yarn thread braiding. And finally, it is lacquered with a nylon varnish coating.
Application

These cables are used in battery circuitry where chemical exposure is high.

They are also used in UPS systems and server rooms.

Characteristics
Uninyvin cables have a much higher current carrying capacity than traditional PVC wires.
Applicable standards
IS 9857
Product range
ATC/EBXL-HRPVC/Nylon Braid & Lacquer – sizes 0000 to 6 ATC/EBXL-HRPVC/Nylon sheath – sizes 8 to 22
Advantages
Uninyvin cables require less copper to facilitate comparable or better current carrying capacity, making them extremely cost-effective. Moreover, they are lighter and more flexible, and therefore, easy to carry as well as install in all sorts of small spaces.
Published On: January 20, 2021