Tactical cables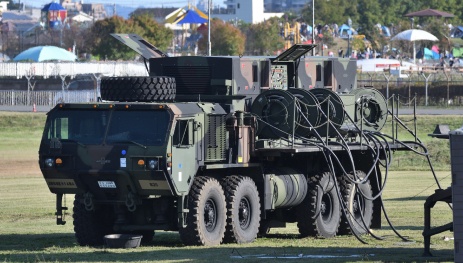 APAR's tactical cables are designed to withstand extreme environmental conditions
Tactical cables are widely used in military applications. Compared to other fibre optic cables, these are very small in diameter and are lighter in weight. Tactical cables have a steel central tube and wire armouring.
Application

Tactical cables are ideal for military applications thanks to these features:

– Fast and trouble-free integration in the field

– Easy-to-use and trouble-free maintenance

– Extremely high mating durability

– Less sensitivity to pollution, dirt and dust

– Ruggedized connection, high resistance to crushing and shock

– High tensile strength

Characteristics
APAR's tactical cables are designed to withstand extreme environmental conditions. Our ruggedized tactical jackets and diverse cable constructions protect these from temperature extremes, UV/sunlight, solvents, abrasion and impact. These easy-to-install cables provide bandwidth, performance and versatility for applications where standard communication cables would never survive.
Applicable standards
IEC 60793, IEC 60794, Telcordia GR -20, TIA/EIA 598
Product range
APAR offers the 2 to 12 core tactical cables in gel-filled stainless steel tubes with armouring and strain relief made of stainless steel wire with a jacket of PA-12. These can be customised further to suit your requirements.
Advantages

Fibre optic cables play an important role in running global internet services, in an efficient and effective manner. Fibre optic cables are much superior to standard copper cables, as fibre optic cables of same thickness support higher bandwidth capacity and can transmit data over longer distances. It allows telecom network providers reach remotest locations across the globe.

APAR tactical cables have high permissible tensile strength and crush resistance making them rodent proof. The other advantages include compact structure, high flexibility and low weight, and superior UV, chemical, fungal, abrasion and oil-resistant jacket.
Published On: January 21, 2021