Submarine underwater cables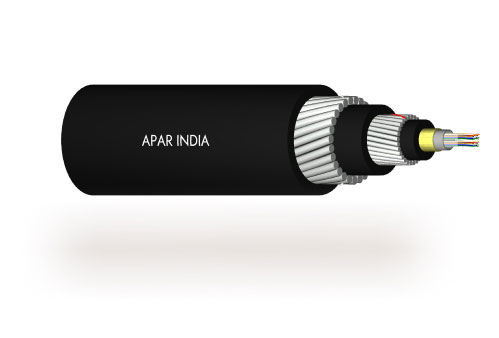 These cables are best for underwater use, junction communication systems and long-haul communication systems.
The central stainless steel tube contains 24 to 48 fibres filled with water-blocking gel. One layer of HDPE is extruded over the steel tube. A water-swelling tape is helically wrapped around the cable core. One or two layers of round steel wire are wound around the cable core, to provide the required tensile strength and mechanical protection. The final cable is jacketed with HDPE. An optional aluminium moisture tape can be incorporated under the jacket for water blocking and shielding purposes. An optional ripcord can be put under the jacket to facilitate jacket removal.
| | |
| --- | --- |
| Application | It is best for underwater use, junction communication systems and long-haul communication systems. |
| Characteristics | The cable exhibits excellent tensile strength and side press retardancy and gives excellent mechanical and environmental performance. |
| Applicable standards | IEC 60793, IEC 60794, Telcordia GR -20, TIA/EIA 598 |
| Product range | APAR offers 24 F to 48 F Submarine Cables with Single Mode G652D, G654 or G655 fibres made to customer-specific fibre and cable specifications. |
| Advantages | Due to their high tensile strength, ruggedness and lightweight design, these cables are durable enough to withstand high water pressure. They are waterproofed to withstand water penetration. |
Published On: January 20, 2021