Solar cables as per TuV/EN/UL specifications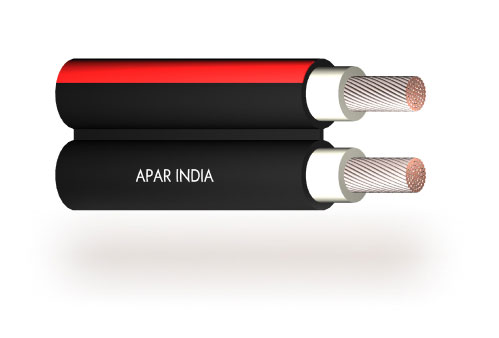 APAR introduced a range of solar cables for emerging PV-based renewable energy installations backed by 30 years of experience in the manufacture of elastomeric insulated cables.
We have installed electron beam irradiation facility with 1.5 MeV, 2.5 MeV and 3 MeV accelerators and use this technology for cross-linking of elastomeric insulation and sheath of solar DC cables.
Our photovoltaic (PV) cables are used for interconnecting photovoltaic solar panel arrays in solar energy farms. These solar panel cables are suitable for fixed installations, both internal and external, and in open environments or in conduits. The compounds have zero halogen, low smoke properties and are ultra violet ray as well as ozone resistant. These cables can last for over 25 years. What's more, these can offer the rodent-resistance feature and are available in a range of options: copper, copper-coated aluminium or 8000 series aluminium.

Rodent and termite-resistant cables are made with the nylon-12 layer between two layers of XLPO. Depents on application twin solar cables can also be offered.
Application

These cables are used for interconnecting solar panels, combiner boxes and inverters in dry or damp conditions as well as in harsh environments exposed to ultraviolet sunlight radiation.

These can be installed in open trays and in ducts or conduits.

Characteristics
Annealed tinned flexible copper conductor, electron beam cross -linked polyolefin (XLPO) insulation and sheath.
Applicable standards
EN-50618/2014, IEC: 62930, TuV 2pfg, 1990/05.12, AS/NZS:5000.1: 2005, UL:4703.
Product range
2.5 mm to 300 mm
Advantages

The electron beam cross-linked wires and cables offer superior performance in demanding applications and in extreme environments.

Some of the properties include: high di-electric strength, UV and ozone resistance, halogen-free, flame retardancy, oil and chemical resistance, weather, impact, abrasion and crack resistance, good cold flexibility, very long life cycle, compatibility with all popular connectors and ROHS compliance.
Published On: January 20, 2021