MV/HV XLPE insulated power cables up to 66 kV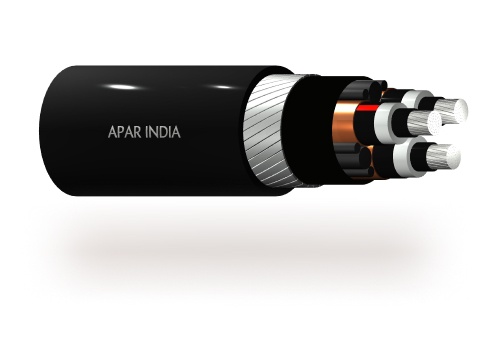 APAR has been making medium voltage cables up to 33 kV since 1991. We have a state-of-the-art facility for manufacturing medium and high-voltage XLPE cables up to 66 kV on two precision CCV lines.
The older line is dry cure water cooled, and the newer ones are dry cure dry cooled. These precision-engineered cables are designed to match the highest Indian and international standards.
Our cables are made from high-performance polymers, and are provided with with triple-layer cross heads and Sikora x-Ray systems. They are ideal for critical applications requiring PD values less than 2 PC. XLPE provides excellent electrical and mechanical properties, and a low dielectric factor. We also develop high-ampacity XLPE cables for maximum continuous operating temperatures of 105°C.
Application
MV Cables support a voltage range between 6 kV and 33 kV, making them ideal for use in infrastructure (including the distribution and transmission of power). Apart from transmission, these 66 kV cables are used for bulk power distribution.
Characteristics

Simultaneous triple extrusion of three layers: semicon/XLPE/semicon cross-linking under high temperatures and inert gas, rated from 3.3/6.6 kV up to u0/u = 38/66 kV The inner/outer sheaths of PVC/PE/FR/FRLS/LSOH are available as per customer requirements. The single core cables have an armouring of aluminium flat strip/round wire or tape.

For multi core cable armouring, the GI Steel can be in flat strip, round wire or tape. The conductor is generally Class 2 stranded compacted. 8000 series Aluminium can also be provided.

Applicable standards
IS 7098 Part 2, BS 6622 & IEC 60502-2 specifications for voltage grades upto 66 KV
Product range
Single core cables: copper/aluminium, armoured/non armoured, PVC/PE/LSOH sheathing from 150mm² to 1000 mm² upto 66 kV (moisture barrier of aluminium corrugated sheath or polyal tape)
Advantages
Three core cables: 3.3 kV to 33 kV with copper/aluminium, armoured and non armoured, PVC/PE/LSOH sheathing up to 630 mm². The low discharge PD values of XLPE insulation ensures a long and trouble-free service life.
Published On: January 20, 2021