LV XLPE/PVC insulated control cables up to 61 core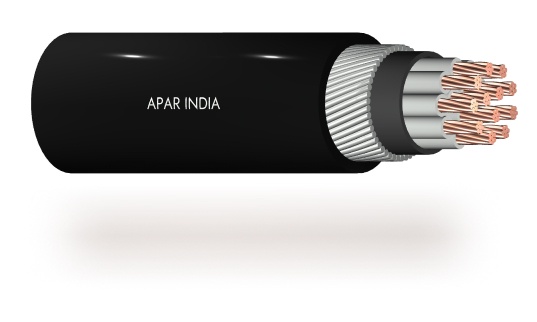 APAR manufactures low-voltage, XLPE-insulated, heavy-duty cables. XLPE cables have higher electrical strength retention, short circuit rating and better electrical, mechanical and thermal properties.
APAR's XLPE-insulated, PVC-sheathed, multi-core (with and without steel wire armour (SWA)) auxiliary fixed wiring cables are used in power networks, underground, outdoor and indoor applications. They are also used in cable ducting for residential and commercial infrastructure.
They serve as the connecting medium in power and control panels, cabinets and switchgears. They are also used for stationary and static appliances, motors, and for other single phase connections. The cables provide protection against electrical interference and resistance to caustic substances and oils.
| | |
| --- | --- |
| Application | Control cables are primarily used with control, indication and alarm equipment for switchgears and similar power apparatuses in power stations and substations. |
| Characteristics | Our multi core cables take almost 40% less space than other similar cables. The cables are resistant to oils and chemicals. The 4 kV test voltage ensures high-insulation performance. |
| Applicable standards | I.S. 7098 PART 1, IEC 60502-1 and BS 5467 specifications for 600/1000 V to 1100 V. Also manufactured as per AS/NZS 4026 & AS/NZS : 5000.1 |
| Product range | 1.5 and 2.5 mm core armoured, unarmoured, PVC sheathed Cables 600/1000 V from 2 core, up to 61 core with sheathing of PVC/ FRLS/ LSOH. |
| Advantages | Multi core cables are reasonably priced, easy to work with, durable and versatile. They can be used in dry, damp and even wet interiors under medium mechanical load conditions. |
Published On: January 20, 2021