Flexible aluminium cables and wires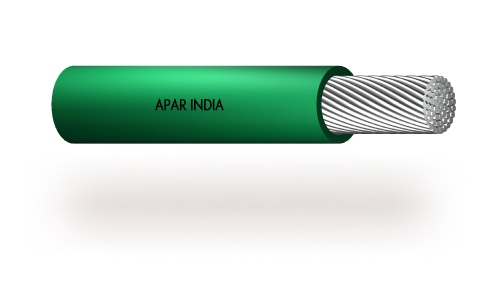 Traditionally Copper is often used in cables and wires because of its excellent conductivity and malleability. But it is relatively heavy and quite expensive compared to Aluminium. Switching to Aluminium, which is lighter and significantly less costly than copper, is a viable option in many applications.
Apar has developed Fine wire drawing facility to offer flexible/multi stranded Aluminium conductor. If Aluminium is used as a conductor material, its lower conductivity requires a wire size that is little larger than that of equivalent copper wire to meet the CR and current carrying capacity. This can be insulated with PVC, FR PVC, FRLS PVC, FR-LSZH etc as per requirement and can be offered as Single or multicore cable..
| | |
| --- | --- |
| Application | As a raw material, Aluminium is approximately 70 percent lighter in weight than copper. This can be helpful in numerous application fields looking to reduce the weight of all components. Accordingly, when used in electrical cables, the lower weight makes them easier to install. Due to much lower cost of the cable, it is being considered as replacement of Flexible copper. Due its light weight even industries such as automotive and the aeronautical industry are switching to Aluminium wires. |
| Characteristics | Aluminium wires can be significantly lighter than comparable current-carrying copper wires. APAR also offers this in the 8000 series. |
| Applicable standards | APAR aluminium conductors are highly flexible. Fine stranded aluminium and the cable are manufactured according to Class 2 & Class 5 IEC 60228 and as per IS Specs. |
| Product range | Building Wires, Single and Multicore Flexible Cables, Welding Cables. |
| Advantages | Aluminium cables are lighter than copper cables. Aluminium cables nearly half the price of copper cables. The aluminium 8000 series emulates the copper crepe properties. |
Published On: January 21, 2021