EPR/EPDM/CPE/CSP/silicon polymer cables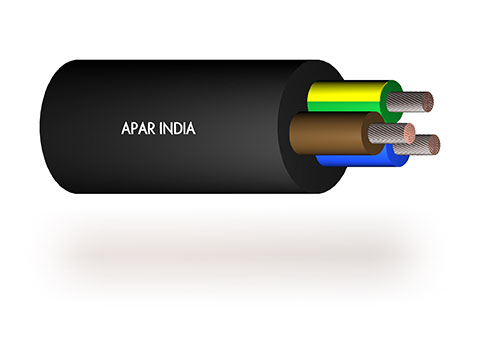 APAR is a true pioneer in the elastomer cable segment in India. Since 1981, we have been supplying a wide range of elastomer cables to a range of industry segments.
We have a state-of-the-art manufacturing facility equipped with Niehoff multi-wire drawing machine, OTOMEC electroplating tinning, bunching m/c, CV lines, high-quality extruders, core stranding / laying machines and autoclaves, as well as all the necessary testing equipment.
Application
These cables are used in railways and industries like ship building, steel, cement, power, defence and mining.
Characteristics
APAR uses advanced electrom beam technology. We have in-house R&D facilities and compounding plants to process a range of compounds like VIR/TRS, EPDM, Silicone, CSP, PCP, NBR and EVA.
Applicable standards

IEC- 502, IS: 9968 (Part I) for LV cables, IS: 9968 (Part II) for MV cables,

IS:14494 (1998) – trailing cables, RDSO Specs Naval NES / DEF Specs. IEC – 502 IEC – 60092 – 353 IEC – 60092 – 350, IEC – 60092 – 376 BS – 7919 VDE – 0298.

Product range
0.5 to 500 sq mm in single core & 0.5 to 400 sq mm up to 33 kV
Advantages

EPR/EPDM insulation is suitable for many higher voltage applications thanks to extra flexibility, reduced thermal expansion and low sensitivity to water treeing.

Silicone rubber cables also have excellent flexibility. While silicone rubber insulation doesn't offer the same mechanical toughness and cut-through resistance.
Published On: January 20, 2021