CRD cables with integrated FO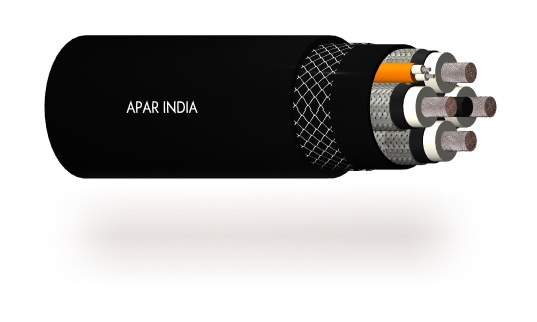 Used to transfer signals, these cables have a number of optical fibres bundled together. These are designed to provide reliable transmission performance over a broad temperature range.
These cables are ideal for indoor duct installation as well as for direct burial applications.
CRD cables are used in EOT cranes, boilers, windmills, mines, shipping, control panels, stacker reclaimers, lifts, furnaces and trolley cars.
Application

These cables are used in conveyor machinery such as transfer cars, boom-stackers, side arm chargers and bulk material conveyors.

They find application in almost every industry segment like steel mills, cement plants, docks, power plants, automobile industries and refineries and petrochemicals. Single cable comprising multiple elements like power cores, control cores, signaling pairs, etc for multipurpose functions.

Characteristics
Temperature range fixed and flexing: -40°C to +90°C. Flame-retardant.
Applicable standards
Outdoor and indoor radio base stations in cement plants, steel Industries and marine locations.
Product range
Various power cable sizes ranging from 4 sq mm for power and 1.5 sq mm for control as well as single and multi-mode fibres 9/125 µm (OS1/2), 50/125 µm(OM2/OM3), multimode 62.5/125 µm (OM1).
Advantages

– Reduced diameter and weight as a result of ideal insulation and sheathing material

– Better resistance to corkscrews due to reverse twist stranding

– Stable design and geometry based on extruded fillers

– The cable's outer sheath is highly resistant to wear and tear in the harshest environments

– Extremely high resilience thanks to a very short lay stranding

– High axial rigidity due to interlinked inner and outer sheaths
Published On: January 20, 2021