Breakout tight buffer optical cables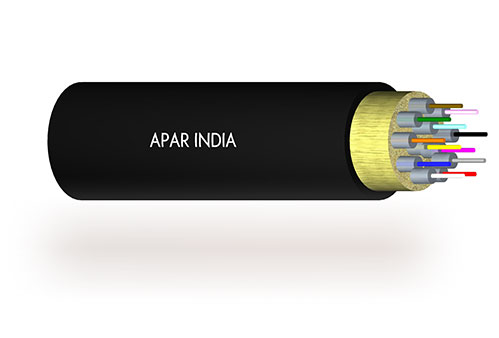 These cables are made by bundling tight buffered simplex fibre optic in an outer jacket. Non-metallic, FRP-strength members in the cable give it good tensile strength and electromagnetic protection.
The cables have a small diameter, and a lightweight and thick-walled jacket protection to allow for versatile applications. They are used in cable assemblies and in places of high electro-magnetic interference. Each fibre is mechanically reinforced with two successive sheaths of 400μm and 900μm, enabling direct termination of connectors. They are available in PVC, LSZH or plenum outer sheath and a tight buffer: 900μm, 600μm.
Application
These cables are meant for indoor use. They are specially designed for applications like floor distribution, interconnection and equipment.
Characteristics
Excellent strip force stability, fibre-geometrical dimensions and good transmission performance are some of the characteristics of this cable. Tight-buffered cables are also easier to install because there is no gel to clean up and they do not require a fan out kit for splicing or termination. Connectors can be crimped directly to each fibre.
Applicable standards

ITU-T G652.B OS1; ITU-T G652.D/G655/G657.A1/G657.A2 OS2; ITU-T G651.1 OM1 OM2 OM3 OM4

IEC60793-2-10 type A1a.1/A1b OM1/OM2; IEC60793-2-10 type A1a.2 OM3; IEC60793-2-10 type A1a.3 OM4

ISO/IEC 11801 , ISO/IEC 24702; IEEE 802.3z Gigabit Ethernet; ANSI/TIA/EIA 568C.3; ROHS-compliant directive 2002/95/EC ; LSZH: IEC 60332-1, IEC 60754, IEC 61034

Product range
2/4/6/8/12/16 single mode fibres in full compliance with ITU-T G652D (also available with G657 SM fibre and OM1 / OM2 / OM3 & OM4 MM fibre).
Advantages
Tight-buffered cables, are optimised for indoor applications. Since they are sturdier than loose-tube cables, they are best suited for moderate-length LAN/WAN connections, long indoor runs and even direct burial. Tight-buffered cables are also recommended for underwater applications.
Published On: January 20, 2021