Automotive wires and cables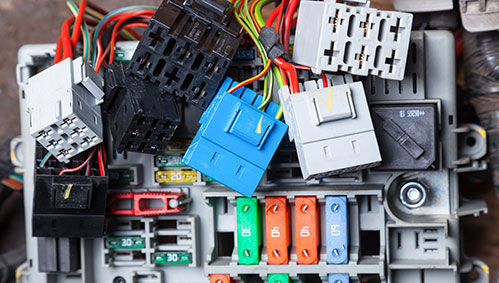 The automotive industry requires highly flexible cables yet rugged to handle the unique stresses during their assembly process as well as the vibrations of running vehicles. The automotive industry is constantly under pressure to optimize their operations in order to maximize efficiency to meet the technical and market demands & increasing expectations.
Apar partners with automobile manufactures to develop solutions that enable them to maintain the efficient, high-performance operations besides being cost-effective. Apar is IATF certified, manufactures all cabin and engine compartment wires , battery cable, ignition wire, Customized wires and complete harnesses for all automotive including Electric Vehicle (EV).
| | |
| --- | --- |
| Application | Automotive wires and cables are used in wiring harness assemblies for all passenger performance and race cars, light, medium, heavy and industrial trucks, motorcycles, buses, agricultural equipment, recreational vehicles, construction equipment, rail equipment, and off-road vehicles. |
| Characteristics | Besides general purpose FLRYB PVC Insulated wires, Apar offers these cables with High temperature resistant covering complete range of ISO 6722 type A,B,C,D & E and flame retardant and helps Providing higher reliability and heat resistance than conventional general wires. Apar has 3 Electron Beam Irradiation facility to offer EBXL wires. |
| Applicable standards | SAE J1128 ; JASO D 611, JASO D 618 ; ISO 6722-1 |
| Product range | 0.5 sqmm to 2.5 sqmm; SAE Conductor size no 28 AWG up to 6 AWG |
| Advantages | High temperature resistant and flame retardant; Provides higher reliability in heat resistance than conventional general wires due to emission bridging. |
Published On: January 21, 2021