ADSS and fig 8 aerial cables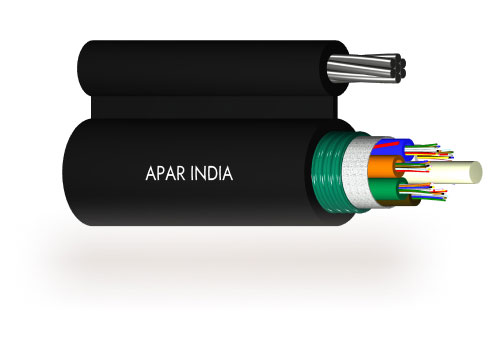 ADSS Cables are lightweight with a small diameter, which enables them to be installed aerially in short, medium or long distance applications.
The construction consists of a uni/loose tube cable with an optical fibre placed inside buffer tubes which are then stranded around a fibre-reinforced plastic (FRP)-strength member at the centre. In addition to fibres, the tubes contain gel to block water and prevent it from entering the gaps in the cable core. A water-swellable tape is also provided around the cable core. Strong, evenly distributed aramid/glass yarns provide the tensile strength required in aerial self-supporting applications. To give mechanical and environmental protection, a thermoplastic overall sheath is also provided with the cable. This is a metal-free cable specially designed for laying below high-tension power lines ranging from 11 kV to 660 kV. For above 33 kV power lines, a special anti-track material is used, to prevent dry band arching on ADSS cables and to save cables from damage.
For Figure 8 aerial self-support cables, the upper part of figure 8 has messenger wires (1 X 7 Stranded GI wires) with a PE outer sheath. The aerial messenger strand portion of the Figure 8 cable supports the mechanical and environmental stresses on this cable. Its strength-to-weight ratio allows it to support the composite strand/cable between poles (or support structures) protecting fibres from stress and sagging. This cable is suitable for hilly regions where a pole is difficult to use. However, this cable cannot be used under high tension lines.
Application
This ADSS Cable is designed for outside plant (OSP) aerial self-supported applications,
high-tension power line distribution and local and campus network loop architectures. The cable is suitable for aerial-to-duct/underground transitions.

Figure 8 cables are suitable for aerial applications.
Characteristics
This cable can be designed to specific requirements of length, wind speed and other loading conditions. All dielectric designed cables are completely immune to electromagnetic fields.
Applicable standards
IEC 60793, IEC 60794, Telcordia GR -20, TIA/EIA 598, IEEE 1222
Product range
APAR offers ADSS Cables from 2F to 288F or more as per customer specifications, with various types of fibres like G.652 D, G657A1 & A2 ,G.655, G.656. We also offer multimode fibres with a span of 100 to 800 metres, requiring wind, ice load and sag for 11 kV to 660 kV power lines. APAR offers a variety of Figure 8 aerial cables from 2F to 288F, with single and multimode fibres, with uni/loose tube unarmoured and armoured cables.
Advantages

These cables are flexible, lightweight, easy to handle and install. They are tensile, crush resistant and UV protected. The physical parameters of these cables are tightly controlled. All-dielectric self-supporting (ADSS) fibre cables provide advantages over strand and lash fibre networks for electric utility applications in many cases. Some of the advantages of ADSS cables include:

No metallic components. They can be installed in supply space with no grounding required

Little to no 'make ready' cost

Lower hardware costs

Speed and ease of installation

Minimal long term maintenance

Longer expected design life

In most scenarios, these advantages lead to lower total cost for the electric utility.
Published On: January 20, 2021