POWER ANTIFREEZE OAT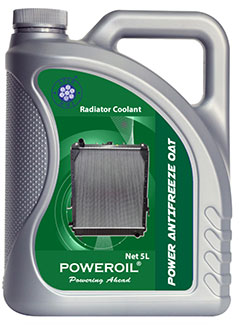 It meets the ASTM D 3306 corrosion test requirements. It does not contain Borates, Nitrites, silicates,
phosphates or amines. It provides superior engine protection in heavy duty diesel applications where
glycol based coolants are used, as well as diesel applications where water is used as the coolant.
It is relatively less toxic and, as a result, is preferred by those concerned about skin sensitivity and
coolant spills or disposal.
Advantages
– Protection against corrosion of the alloys used in the cooling system of modern vehicles.
– Protection from electrolysis.
– Efficient lubrication of water pumps. PH Buffers are Less Likely to Cause Water Pump Leakage
– Compatible with conventional seal and hose materials used in engine cooling systems.
– Less Tendency to Form Gel in Cooling System
– Less Toxic than Borate / Nitrite Inhibitors Packs.
– Its long life corrosion inhibitor package has special mix to protect all six standard metal alloys (brass,
copper. Steel, solder, cast iron and aluminium). These proprietary ingredients provide broad range metal
protection and guard the cooling system against corrosion and cavitation erosion. In addition, it contains
additives to minimize hot surface scaling.
Available in 1L. 4L. 20. 200L, 209L
Published On: December 28, 2020