Grease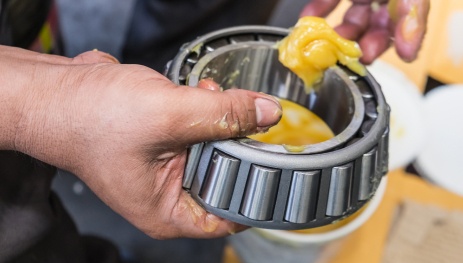 Grease is used where it is not practical or convenient to use oil. It is used in machinery that runs intermittently or is idle for extended periods of time.
Grease is a semi-solid/solid material of dispersion of thickening agents in liquid lubricant. The thickener can be either soap or non-soap based, and the liquid lubricant can be a mineral or synthetic type. Additives are added to impart special properties.
It is also recommended for components that are not easily accessible for lubrication, or those subjected to extreme temperature, pressure or shock loads.
Grease
PRODUCT DATA SHEET
SAFETY DATA SHEET
POWEROIL Gem EP

  

↓

POWEROIL Gem EP

 

00

↓

POWEROIL Gem EP

 

0

↓

POWEROIL Gem EP

 

1

↓

POWEROIL Gem EP

 

2

↓

POWEROIL Chassis Grease

↓

POWEROIL Chassis Grease

↓

POWEROIL Gem MP

 

↓

POWEROIL Gem MP 1

↓

POWEROIL Gem MP 2

↓

POWEROIL Gem MP 3

↓

POWEROIL Heavy Duty LC2M

↓

POWEROIL Heavy Duty LC2M

↓

POWEROIL Hi-Temp

  

↓

POWEROIL Hi-Temp 2

↓

POWEROIL Hi-Temp Super 2(Moly)

↓

POWEROIL Gem EP 000

↓

POWEROIL Gem EP 000

↓

POWEROIL Gem CBP

↓

POWEROIL Gem CBP

↓

POWEROIL Gem LC2

 

↓

POWEROIL Gem LC2

↓

POWEROIL LC2 PTFE

↓

POWEROIL LC2 PTFE

↓

<![if supportMisalignedColumns]> <![endif]>
Published On: December 23, 2020